Free Halloween Word Search Puzzle Book for YOU!
Celebrate Halloween with our Free Halloween Word Search puzzle book. While you might be thinking there are some sort of tricks to get this book. Nope!
This book is full of word game puzzle treats focusing on what is special about the Halloween season. From trick-or-treat safety to carving pumpkins, the 14 puzzles in this book are fun for the October holiday!
Puzzles to Play for Halloween
It's suggested that people buy more candy for Halloween than any other holiday. This makes sense as we share our candy with almost everyone who stops by our door on October 31. What you might get as a treat is anyone's guess. From chocolate to gummy bears and every sweet candy in between, the best of finding candy in our Halloween Bucket is the surprise of what might be inside.
No treats? Just Tricks
Halloween is a great time to brush up on all things spooky. Have you ever wondered why we yell trick or treat at the home owner when a door is opened? The phrase, shouted at home doors opening, is sort of a joke.
The youngsters standing on the porch are making a simple suggestion that if they don't get a treat (like candy) given at the time, the kids will perform a trick (and we are talking some sort of mischief but not a magic trick) on the owner of the house.
Legend has it that many people who don't offer treats and leave their lights off to avoid candy seekers are not part of the trick-or-treat fun and won't have any mischief at their home.
Good Scares Anyone?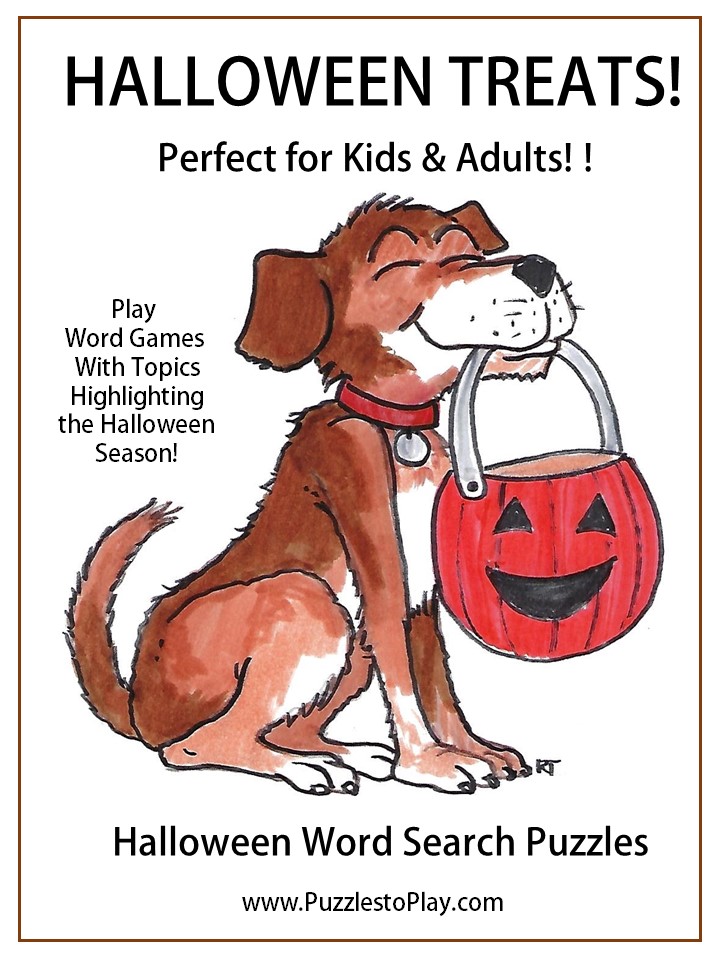 Of course Halloween isn't just about getting candy. you may enjoy the spooky side of things and go to a haunted house. Or maybe you prefer to walk around your neighborhood on a local haunted walk. A good scared is part of the fun on this special day!
Why We Love Halloween Puzzles
We love sharing Free Halloween Word Search Puzzles! Every year we take time to put together free word searches in a Halloween puzzle book. While not too scary and never too sweet, our puzzles are perfect, boo! The opportunity to enjoy the Halloween holiday with you is a fun moment for us too.
Our handcrafted word lists for the puzzles are fun! Includes pumpkin carving, what's inside your pumpkin bucket and even a puzzle about the holiday TV special with Peanuts and the gang called It's The Great Pumpkin Charlie Brown.
Happy Halloween!