National Puzzle Day 2024
Join Us for Classroom Activity and Worksheets
January 29 – The Celebration of Puzzles! –  National Puzzle Day Classroom Freebies #Puzzleday
Classroom  Activity Worksheets
Every year in honor of National Puzzle Day, there is a special surprise. In 2024, we will released a special classroom activity and worksheet packet. Fun puzzle PDF packet for all ages!
Our Packet Includes 11 pages of puzzle fun: Weird Puzzle Facts, Word Scramble, Did You Know, Make Your Own Jigsaw Template, What is a Puzzle, The list of Types of Puzzles, Puzzle Matching Fun, Puzzle Poster, Puzzle Maze, and Personal Puzzle Writing.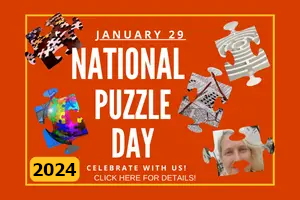 National Puzzle Day 2024 is coming up! During this special time every year, the National Puzzle Day HQ gears up for a big celebration of puzzles. Our mission for the past 20 years is to encourage the masses to play a puzzle. What kind of puzzle? Any kind your heart desire. Word Search, Sudoku, Jigsaw, Crossword, Number, Mazes, Escape Rooms, Jumbles and any other puzzle you could imagine. Let's enjoy all the Puzzles to Play.
Founded by Jodi Jill, National Puzzle Day is a celebration of puzzles on January 29, which has resulted in an international event with millions of people sharing online their joy of puzzles. She couldn't be more thankful than to see the classroom pictures and puzzle lovers photos who honor this annual event, taking a moment playing their favorite puzzles.
Social Media Outreach
Our hashtag #puzzleday is always flying high in January. We celebrate around the world by asking people, organizations & teachers to get involved in the event. Share what your class is doing. Encourage everyone to get involved with a pic of your personal puzzle skills. We will share the posts too! Find National Puzzle Day on Twitter, Facebook and Instagram.
29 Free Books Full of Puzzles
If you are looking for M-O-R-E Free Puzzles to Play, you've come to the right place. This website is an extension of National Puzzle Day and you can find over 500 free word search puzzle worksheets to download by clicking around! If you need free puzzle books – well we have those too! Download, print and play with plenty of pencil powering puzzles! GO HERE for 29 Free puzzle books!