**** ONLY Official National Puzzle Day Jigsaw Created by the Founder of the January 29th Holiday ****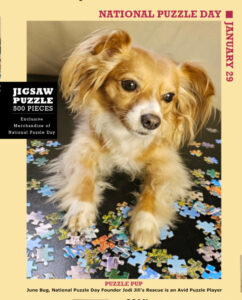 Celebrate National Puzzle Day! Your
Customers Will L-O-V-E talking about puzzles!
We couldn't be more excited to announce the 2024 National Puzzle Day Jigsaw! 500 Pieces. 18 x 24. Made in the USA. Highlighting a rescue pup, June Bug, who loves puzzles and is part of the puzzle world (her owner is the founder of National Puzzle Day!) Plus this is our FIRST jigsaw puzzle EVER (and it's been over 25 years since the puzzle day was created.)
National Puzzle Day — January 29th
Purchase our National Puzzle Day-themed jigsaw puzzles wholesale to make these exclusive and collectible items available to eager players across a spectrum of retail outlets. Our wholesale pricing is exclusive to stores, puzzle clubs, puzzle stores, book stores and others who resell puzzles (yes, the jigsaw wholesale price is here!)
RETAIL COST: $29.00 Each
USE 60% Discount Code: Wholesale
WHOLESALE COST: $11.50 Each (with purchases of 3 or more jigsaws)
Official National Puzzle Day Jigsaw Puzzle
$29.00
Additionally we have Supplemental Puzzle Day Materials: Postcards and Posters available by request for every order. Yes, FREE! Activity Worksheets, puzzle facts and more are already available online to download and share with customers.
January Is Puzzle Month! Let's Work Together!
We'd love to partner with you too! Talks about puzzles, game and puzzle events and other possibilities are available we want to work with our jigsaw wholesale partners! We can hardly wait to celebrate National Puzzle Day in 2024.
Let's Celebrate Puzzles!!!
Questions? Reach out and let's work together!