Puzzle Day Jigsaw Activity Packet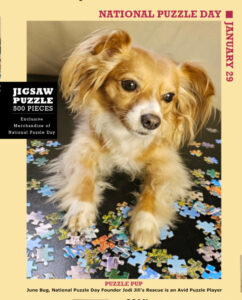 Looking for a puzzle day activity packet to share with your group, class or organization? Whether you are an educator, an activity coordinator or group coordinator, sharing the love of puzzles in the month of January will create smiles!
Celebrate National Puzzle Month of January or National Puzzle Day on January 29th!
There are over 900 different puzzles around the world! Which is your favorite?
Our Puzzle Day Activity Packet includes:
EXCLUSIVE Official 500 Piece National Puzzle Day Jigsaw Activity Puzzle
30 Postcards to share with your group or class
5 National Puzzle Day Posters to Share some Puzzle Fun
PLUS an Official Note from the Founder of National Puzzle Day, Jodi Jill
CELEBRATE THE BEST OF PUZZLES!
Our Activity Kit offers educational value AND celebration during this fun time.
Puzzles are excellent educational tools that enhance cognitive skills, including problem-solving, critical thinking, and spatial reasoning. You can use these puzzles to stimulate and challenge minds in a fun and engaging way.
Sharing a puzzle involves teamwork and collaboration, fostering a sense of unity and cooperation among individuals. This can be used as a group activity to encourage teamwork and communication skills. Or it can be fostered as an single activity that creates interest in our world.
National Puzzle Day Activity Packet
$36.00
Buy now
This exclusive opportunity comes from the founder of National Puzzle Day and Puzzle Lover Jodi Jill. Celebrating and recognizing the importance of puzzles in our lives, which can be tied into games, discussions and activities, this activity packet will help you celebrate this fun time during the year.