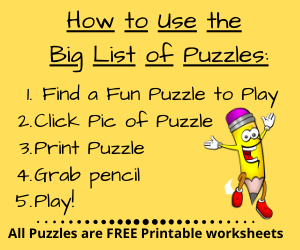 Page 5 of the Big List of Word Search Puzzles
Scroll Down!
Get Started with these fun Word Search Printables
Free word search puzzle to play! This is the fifth page of the big list of free printable puzzles. Dozens of word search puzzle topics you can choose from. Each word game is easy to access.
*You are On Page 5*
Ellen Show
French Fries
Rabbits
House Paint
Construction
Wild West
Charlie Brown
Ants
Airports
FEET
DWTS
COVID-19
Joe Biden
Envelope
Gold
Ice Cream Store
Charlie Brown
Fire
All Red
TIE DYE
Dog's Life
All Water
All BLUE
Bakery
Nachos
First Date
Wendy Williams
At The Gym
All Round
GLASS
Pasta Sauce
Boots
Shrimp
Lemons
Shave Your Face
Railroad
At the Movies
Weather Terms
All Boards
SUPPORT