Garden crafts for kids is perfect for this time of year. Nothing is more exciting than the blossoming flower and the blooming plants during spring.  We love to see the days get warmer and the buds sprouting from the ground. This art of life is something we all try to share with our children. 
Getting the kids involved is super important and who doesn't want to get their hands dirty. Especially if you're the younger crowd. This extraordinary fun list of garden crafts for kids offers a look at what you can be doing with little to no funds while  growing those little green thumbs.
Garden Crafts for Kids – Make it Fun!
Natural Bird Feeder. Daisies and Pie offer a great way to combine Spring Garden and birdies with this fun activity. Making a national bird feeder looks great in the garden and can teach the children about the ecosystem. 
2. Seaside Shell Wind Chime Craft. Wind chimes are always very delightful, especially when it comes to the light breeze. This unique shell wind chime craft is fun to put together with the family. Red Ted Art  has done an amazing job explaining how to do this. 
3. Super Cute Rock Gnome. This is a very fun rock painting idea that the kids are going to love. The Inspiration Edit offers details on how you can have the Gnomes all around your garden. 
4. Mason Jar Bird Feeder. Mason jars are for more than just canning. Crafts by Amanda shares how you and the kids could make a mason jar bird feeder and it will not only be one of a kind, but a delightful pit stop for the birds to enjoy! 
Garden Crafts For Kids are Fun for Parents too!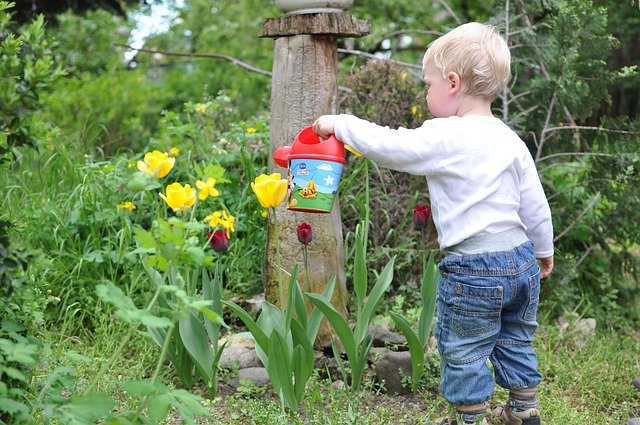 5. DIY Upcycle Toilet Paper Seedling Pot. The Forked Spoon has a great way of getting your seedlings started. The kids are going to find this little activity. It's a garden craft that's exciting to do and it's a great way to recycle .
6. Easy DIY Garden Markers. Knowing where you plant is super important. It helps the kids to remember what is really a plant and what is a weed. The things Well Make offers this garden craft that the kids enjoy and helps them understand how to organize.
7.  Pressed Flower Greeting Cards. This is one of those cool garden crafts that the kids will be talking about for decades. Pressed flower greeting cards are so unique and special. They really are an act of Love. Fluxing Well does a great job sharing an easy DIY to get you started.
8. DIY Garden Rock Markers. Marking your garden is a great way to keep track of the plants and there are different ways of doing it. If you enjoy making it personalized, consider Saving Talents craft of putting decorated rock markers to label where your different plants are in the garden.
9. Rock Train for the Garden. Talking about rocks, if you're thinking about painting them then you need to check out Mom's Collab. This is an epic idea on putting together Rock trains for areas of the garden yard and more. The garden craft for kids is fun and they are going to love it! 
10. Milk Jug Greenhouse. Starting seeds is the basic idea of spring. Getting those itty-bitty seeds in the ground to see what sprouts is the first step. Kicking it off in milk jugs is a great way to show kids how growing works. Plus it's perfect if you live in a community where you don't have a lot of space. Checkout Feast End Farm for this gardening activity to get started even before the snow melts.
11. Egg Carton Seed Starting. I remember as a kid we used to start our seeds in an egg carton and then move them to the earth. Pink Fortitude shows exactly how you can do this as a craft with the kids. It's a really easy and wonderful way to get started in the garden! And it's a perfect garden craft for kids.
12. Make Garden Markers from Tin Can Lids. Marking of a garden is always important. A clever craft, Creative Green Living shows how to make garden markers from Tin Can labels. Talk about Recycling and gardening in one smack. The kids will love it!