Get Your Free Easter Word Search Puzzles
If you are looking for a free Easter Word Search packet, let the world know you've found the puzzles for kids! Having fun in 2022 starts with Easter Word search printable that even the Easter bunny would approve of playing. The idea of enjoying the Easter puzzles is all about celebrating the season. Our five printable puzzles booklet is a free PDF for you and your family to share (and even play together if you want!)
So how hard are Your Easter Printable Puzzles?
Good Question, all of your puzzles are family friendly and we aren't allowed to make them too hard (Easter Bunny rules) instead we craft each puzzle by hand to offer a fun time for all ages. We believe our word searches for kids are also fun for adults to play. And we keep the spirit of the season live by sharing the best of the each subject with corresponding word lists.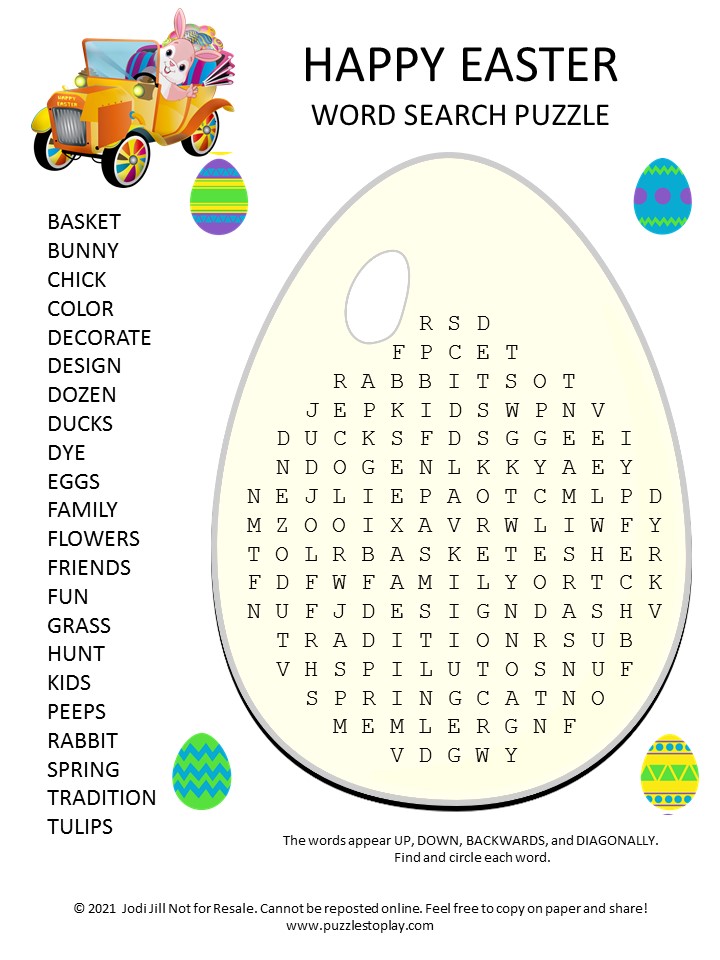 This year, in 2022 we have brought out all the fun with Easter puzzles around the traditional Easter Egg hunts, the fun of dying Easter eggs and even a look at Peter Cotton Tail! We give our best puzzles to the fans as we know anyone could put together a puzzle about Easter, but not everyone would be willing to research puzzles for topics about Easter fun! That's what we love to do!
Related Puzzle: Rabbit Word Search Puzzle
How to I get the Printable Word Games?
If you are looking for the word search puzzles, they are only a click away. Our puzzles don't need an email to access and you certainly don't need any secret passcode. Instead you could download the fun Easter word search Puzzles by simply clicking on the link and getting started. The free PDF download will open in a new window with the puzzles ready to print. As you scroll through the different puzzles, you can decide what puzzles you want to try first. Of course, you can print them in black and white OR color, it's your choice.
CLICK HERE FOR THE FREE EASTER PUZZLES
If you'd like the puzzles to be large print, simply increase the enlargement size on the printing stats before you hit the print key. It's also possible to change the paper size and make it small so you can fit two puzzles on a page. Don't hesitate to play around to make the PDF the perfect size for your puzzle players!
Easter Puzzles are Hopping Around Here!
If you're looking for a fun way to keep the kids entertained over Easter weekend, look no further than these printable puzzles! With four different levels of difficulty, there's something for everyone. Plus, they're a great way to sneak in some education while having fun. So print out a few copies, pop them in your Easter baskets and get puzzling!
In Conclusion
Printable Easter puzzles are perfect for the kids and the adults will love the word search puzzles too. Looking for a fun Easter activity that will keep the kids entertained? Check out our Easter word search puzzles! We have both kid-friendly and more challenging versions, so there's something for everyone.