How to Complete a 1000 piece Jigsaw Puzzle Fast
Completing a 1000 piece puzzle can be a daunting task, but with the right jigsaw puzzle solving tips it can be done in no time! Sometimes we wonder if there is such a thing as an easy 100 piece puzzle?  In this post we'll discuss some of the best ways to complete a 1000 piece puzzle quickly and easily. Asking jigsaw puzzle experts and professional speed jigsaw puzzle players, we realized they have jigsaw techniques for doing jigsaw puzzles.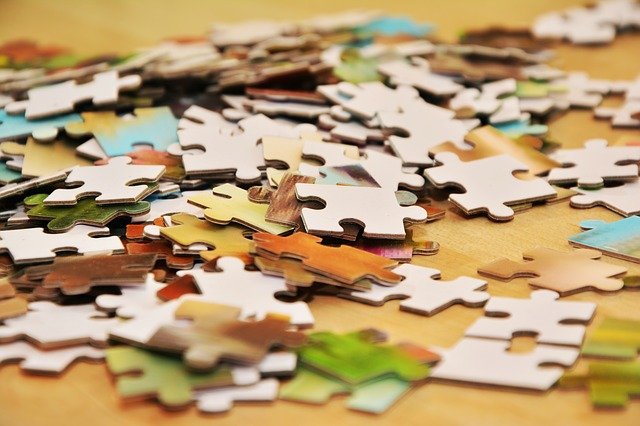 So if you're looking to take on a new jigsaw puzzle and you are wondering how to play jigsaw puzzles faster, read on for some helpful advice. By following these jigsaw puzzle tips and tricks along with implementing a few ideas of your own, you'll be able to finish your puzzle like a pro!
A New Jigsaw Challenge: How to do a puzzle fast
When I saw a 1000 piece puzzle in the store, I knew I had to buy it. But, when I got it home and tried to put it together, I realized that it was going to take me a while. If you've ever tried to finish a 1000 piece puzzle, you know how daunting of a task it can be. With these tips, you can solve your next puzzle so much faster.
How to Complete a 1000 piece jigsaw puzzle quickly and easily.
1. Choose a jigsaw puzzle with bright colors and interesting designs. One of the best ways to exercise your brain is by doing jigsaw puzzles. They stimulate a lot of important parts of your brain, like your visual cortex and frontal lobe. The more colors and shapes the more opportunity you have to quickly sort and connect the pieces.
2. Sort the jigsaw pieces by color and shape. One of the jigsaw puzzle experts we talked to suggested you use a timer and the first 15 minutes of play all you do is sort the colors, shapes and even the edges. This way you have compartmentalized the jigsaw into sections and it won't be overwhelming.
3. Start with the outside edges and work your way inward. Talking about the edges, one of the techniques for doing jigsaw puzzles is to start on the edges. Then work your way in. It's one of those well known jigsaw puzzle tips that many people use (and it works well too).
And Don't Forget to…..
4. Use a flat surface to keep the puzzle from moving around as you work. Get yourself a jigsaw mat or consider a jigsaw table where the pieces don't slip around. At almost every jigsaw puzzle competition the table (and sometimes even gloves you will find these techniques for doing jigsaw puzzles.
Related Reading: Five Cool Things about Jigsaw Puzzles
5. If you get stuck, take a break and come back to it later. The biggest suggestion we got from the jigsaw puzzles experts is to take a break and refocus. Perhaps it's not a very exciting jigsaw puzzle trick, but even walking away for a glass of water will allow a break to take a second look.
6. Invite over a few friends to help. When someone asks us how to do a puzzle, we always reply with friends and family! It's a fun time by all and we even complete the jigsaw faster than we would alone.
In Conclusion
Completing a puzzle is a fun way to spend your time, but it can also be frustrating if it takes you a long time to finish. Not all of us are able to think five pieces ahead like players who use jigsaw puzzle competition strategy solving. The tips for how to do a 1000 piece puzzle are also great for 500 piece puzzles and even 250 piece puzzles. Whatever the count, it's all about focusing in on the jigsaw puzzle strategies.
Hopefully though, you find jigsaw puzzle playing relaxing and don't go too fast. Follow these tips and you'll be finished before you know it!