Unique Free Halloween Word Search Puzzles
If you love Halloween, you probably are loving the idea of Halloween word search puzzles for kids. Of course, the only thing better is free word search puzzles. Taking time for the pumpkin holiday to find a word or two is a great game for all ages! Especially the kids.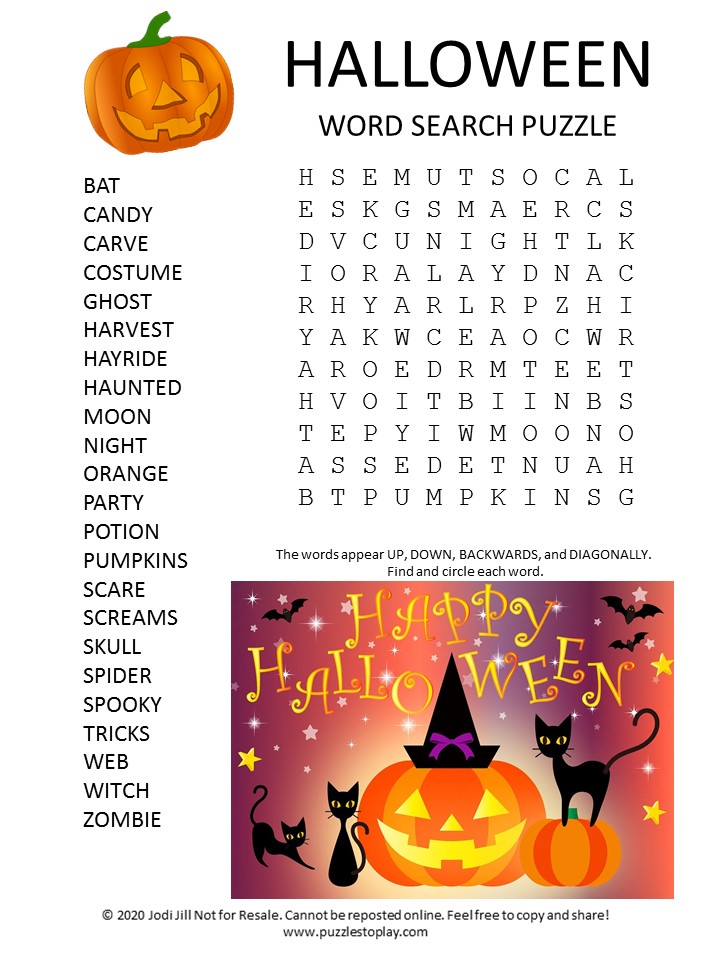 Let's Have Halloween Word Fun!
Everyone can create a word search about Halloween Time! Yes, we have a few simple word finds too. How about some unique word Halloween word search puzzles? What's the deal with pumpkin carving? How about the idea of what is in your trick or treat buckets? Thinking about Halloween safety in a word search puzzle? We certainly are! Our fun list of five Halloween puzzles even includes a Halloween haunted house (but not too scary.)
It's Time! Get Your Pencils! Here is Your Halloween Word Game List!
Halloween Fun Word Search Puzzle. You need to have some fun and why not on Halloween with this fabulous free download all about this special day!
Pumpkin Carving Word Search Puzzle. The traditional Jack-o-Lantern is one activity that many people enjoy! Why now a free puzzle about this fun fall activity! It's fun (and free to download) so check it out!
Trick or Treat Safety Word Search Puzzle. If you're thinking about going out to find a load of candy in your neighborhood, this is the perfect puzzle to remind you about being safe! Halloween safety is important during this fun night!
It's the Great Pumpkin Charlie Brown Word Search Puzzle. The time honored tradition of watching Snoopy and the gang for the Halloween holiday is always fun! What could be better? What about a puzzle about this fun animated television show? We love this Halloween television show it so much, that we decided to make one too!
Our Haunted House Word Search Puzzle rounds out our top five free word search puzzles. If you love a little bit of scary word fun, this puzzle is perfect to play! Of course, it's a free PDF download too!
Happy Halloween! A Great Day to Have Fun!
If you love Halloween as much as I do, the best way to celebrate is to find the perfect costume and enjoy the events with friends and family. There are so many great activities to participate in. From Halloween parties to trick or treating and everything in between, it's a wonderful way to get out and play for the holiday.