Jigsaw Puzzle Exchange: What is It?
What is a local Jigsaw puzzle exchange? Simply put, it's a way to meet new people and change out puzzles you've played for new designs. Meeting up with locals, you can easily find new puzzles to play. AND (this is important) people who really love jigsaw puzzles know it's super important for all the pieces to be part of the puzzle.
How to Host a Jigsaw Puzzle Swap
If you are looking for new jigsaw puzzles and you want to find a few games that won't cost, it's time to host a jigsaw puzzle exchange. A local puzzle swap is fun as you meet other puzzle people, find new puzzles to play and talk puzzles! It's also a great way to socialize with others who love puzzles as much as you do.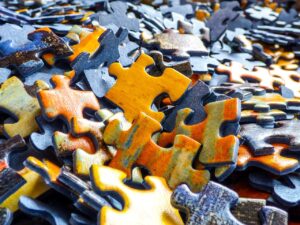 Total Time Needed :
4
Hours
Total Cost:
FREE
USD
Required Tools:
– jigsaw Puzzles
– Computer to Make Flyers
Things Needed?
– Jigsaw Puzzles
– Room at Nearby Public Building
– Flyers
How Much Money Will You Save?
While you might have to put in some work for a local jigsaw puzzle exchange, you are going to save big money! The typical jigsaw puzzle costs $30 and if you swap 3 different puzzles and met some new friends, it's definitely worth it. Additionally, you might even get a few extra puzzles in the process. Many times people will bring more puzzles than they take home. Wanting to share the puzzle fun!
In Conclusion
If you haven't considered a puzzle swap, you should! It's a great experience and you can find more amazing puzzles while allowing your wallet to take a break. Of course, if you are looking for more word search puzzles, check out our site as we have hundreds to select from (and they are free too.)