Jigsaw Puzzle Clubs Around the World
Jigsaw Puzzle Clubs? If you are thinking you'd like to enhance your jigsaw play, you might be thinking about a group to join. It's no surprise that jigsaw puzzles have grown exponentially over the past five years. More people are at home after a world health issue and the art of puzzle playing was rediscovered. Catering to every age, it doesn't matter if you are 7 or 70 years old, there is a puzzle to play for you.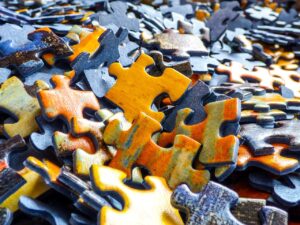 So if anyone can play a puzzle, why join a puzzle club? it's a very social (and exciting) thing to do! From the very first time you engage, you will find that people will be supporting your puzzle play. From the first piece to the last. Additionally, you will have the chance to hear from others so you can make your puzzle play the best. From ideas and tips to the ultimate final piece congratulations, it's a real opportunity to engage.
5 Reasons to Join a Jigsaw Puzzle Clubs
Still on the fence for joining a puzzle club? We feel you. Sometimes joining a group is overwhelming and you don't want to impact a positive experience with an overall annoying commitment. Do not despair! you can enjoy your puzzle play even further joining a club either online or locally.
You Can Get Helpful Hints for Puzzle Play. Not everyone just opens a box and starts putting the pieces together. The practical folks part of jigsaw clubs have developed a science for the true way to appreciate playing.
Recommendations for New Puzzles. You might think a jigsaw puzzle is just a jigsaw puzzle. WRONG! There is so much more. The pieces, the quality and the size. Getting ideas from fellow players is a great resource.
Continued support for your puzzle play. Do you take pics of the puzzle in progress and share it with friends? Yeah, wouldn't it be nice to share those photos with someone who appreciates it?
The puzzle play can be live. Be it life on zoom OR live as in the same living room. Two people playing puzzles and talking puzzles is an amazing experience.
It's the perfect introduction to puzzle swaps. Yep, swapping puzzles in a group (and saving cash instead of buying new) is a huge benefit.
Jigsaw Groups are More Than Just Puzzle Play
Jigsaw Puzzle groups are more than just puzzle play. It's a way to socialize and create a positive experience while playing a puzzle. It's a definitely a delightful resource to have. Especially if your friends and family aren't as enthusiastic as you are about puzzles and the best of living the pieces lifestyle.
It's also a way to keep involved with a community. As humans, we are social creatures. If you find a group you like, it's a great outlet to explore and be part of more.
Jigsaw Puzzle Swaps: An Added Benefit
The jigsaw puzzle swaps are an added benefit to many of the puzzle groups that people overlooked. Jigsaw puzzles can cost over $25 a pop, but if you've completed the pieces, you might find it's time to get rid of it (or put it in the closet). Before you make a rash decision, consider swapping it with another puzzle enthusiast.
The puzzle swap aspect is a very personal part of the group setting. You find different, unique puzzles and play them, Then, you find others who have done the same – with different designs – and swap. Each paying your own postage, you've saved a ton of cash and you have a new puzzle. The best part? people who love jigsaw puzzles are going to be VERY careful not to lose a piece. This isn't an eBay auction where you have potluck.
How to Find a Puzzle Club
If you are wondering how to find a puzzle group, it's easier than you might think. All you need to do is find people who love jigsaw puzzles too. Typically a local jigsaw puzzle club will have less than 25 people. That's Okay because you don't need a lot of people to have a great experience. You only need a few passionate individuals
Where to Look In Person
If you are thinking about an in person club, where you can see people once in a while, ask at the library, local senior center and chamber of commerce for leads. Connect with local entities as that's where you will find community groups. Then reach out, in a call or email and ask for details.
Where to Look Online
You don't need to be in the same town for an online jigsaw puzzle club. All digital, you can easily locate a group that fits your puzzle desires. The best place to look? Instagram. Of course you could check Google too, but too few groups put up pages about their puzzles as they are busy…you know…playing puzzles. Hashtags for social media include #puzzleplay #puzzleclub, #puzzlegroup #jigsawpuzzle #jigsawgroup and #jigsawclub
Putting the Pieces: In Conclusion
If you are thinking about joining a jigsaw puzzle group, go for it! You will meet new people and engage with folks who love puzzles as much as you do! Or maybe start a group yourself! This, along with some jigsaw puzzle fun is a great way to enjoy life!